This Soft-Tissue Maintenance Routine Will Keep You On Your Bike Longer
By Dustin Hancock, DPT, PT
Rausch Physical Therapy & Sports Performance
The "Mountain Bike-PT" Dustin Hancock explains how introducing a soft-tissue mobilization maintenance program can help you avoid limiting aches and pains so you can stay on the bike longer, train harder, and reduce your recovery time.
—
A great friend and old patient of mine recently forwarded this great quote to live by:
"Life's journey is not to arrive at the grave safely in a well preserved body, but rather to skid in sideways, totally worn out, shouting, "Holy [bleep]! What a ride."
While I absolutely love to live by this quote, I've worked as a physical therapist long enough to have seen my fair share of athletes whom lack a maintenance program and arrive in the clinic destroyed. They have neglected treating some injuries and wore out their body before its time. So the question is, how do you want to live your life? Do you want to feel stiff and old, or flexible and healthy?
Whether your goal is to avoid injury, place at Over the Hump, or just shave some seconds off your Strava time, you need to start introducing a mobility program to maintain balance, otherwise you will wear out parts on your body that can't be replaced. Introducing soft tissue mobilization in some fashion on a regular basis will help keep you on the bike, train without the limiting aches and pains, and reduce your recovery time.
Rigid Things Break
With my patients at Rausch Physical Therapy & Sports Performance, I use an analogy between two types of bridges to explain how important the balance between flexibility and rigidity is to the body. First think of a suspension bridge, which can not only hold up to the force of thousands of cars on a daily basis, but also the power of an earthquake thanks to its mobility. Now, a rigid-frame bridge will also hold up to thousands of cars on a daily basis, but it's less likely to tolerate the shearing forces of an earthquake due to its stiffness.
One of my favorite words is "tensegrity," which means something has both great stability and mobility, like a suspension bridge; similar to a suspension bridge, us mountain bikers need tensegrity to stay intact. Between strength and endurance training, long rides, poor posture, old injuries, and the beautiful aging process, we put our bodies through a lot. This can cause global muscle stiffness, and remember: rigid things break. Understanding the importance of tensegrity can help you avoid body breakdown and keep you on your bike longer
Understanding Flexibility vs. Mobility
So, how do you improve your tensegrity (stability + mobility)? While most MTB riders are willing to train hard to improve their stability, many neglect mobility maintenance (and sorry, simply stretching more frequently won't cut it.) To achieve the second half of the tensegrity equation, you first have to understand the difference between flexibility and mobility.
Flexibility refers to your muscle tissue having the appropriate length to achieve the range of motion needed for that function. If you wanted to improve your flexibility, you could do some long-duration stretching (30-second to two-minute holds with no bouncing) on a routine basis—and "routine" is the key word here.
Mobility, on the other hand, is how the tissues slide-and-glide upon the adjacent tissues, which are not only muscles, but could also be skin, fascia, bone, ligaments, nerves, etc. This distinction is why you can't just stretch more often to improve mobility: it's not just about your muscles. You need to add in some form of soft tissue mobilization into your recovery routine, such as professional myofascial release, specialized manual therapy joint work, active release technique (ART) and/or a home mobility program.
Three Ways to Maintain Soft Tissue Mobilization
As a physical therapist, I preach how important mobility maintenance is, however as a cyclist with a busy schedule, I sometimes struggle to add yet another item to my to-do list at the end of the day. Still, I make it a point to continually challenge myself to maintain my mobility routine to make sure my old injuries don't start to catch up to me just yet. A good mobility maintenance routine looks a little like this:
Daily foam roll routine: Spend time working out the tissues that are tight for five to 10 minutes daily, or until you feel about a 50% reduction in pain. Click here to view my specific Foam Rolling Routine for Mountain Bikers.
Massage at least once or twice a month. I recommend a specific myofascial release from the experts at Dynamic Touch, or you can try ART with Lawrence Van Lingen at Rausch PT; he has some amazing fascially-specific techniques he's perfected for elite cyclists across the globe.
Biomechanical assessment (also known as a "tune up") at least every six months. Make an appointment with your physical therapist at least twice a year for a tune-up, movement screen evaluation, and postural assessment. During this visit your PT can determine any new abnormal alignment patterns, soft tissue restrictions, or areas that you need to address to prevent future injuries.
Maintenance isn't always convenient, but I personally make it a point to do it to ensure I get to join the riding group every weekend and race stronger at Over the Hump. The daily grind takes a big toll on our bodies and will cause imbalances, whether it's from poor posture at your desk, lack of cross training or focusing too much on strength training. This is why it's critical for all MTB riders to actively pursue some form of mobility maintenance routine to keep their bodies balanced and their seat on the trails.
Conclusion
All this talk about mobility comes down to helping us get less injuries, improve recovery time, improve your overall athleticism and generally help you feel less old. So be specific, be consistent, and respect mobility with cross friction-based foam rolling.
Feel free to stop by the Rehabulance during the second half of Over the Hump 2016, and I'll show you some awesome foam rolling techniques to address your individual mobility issues.
Cheers, fellow riders.
-DH
---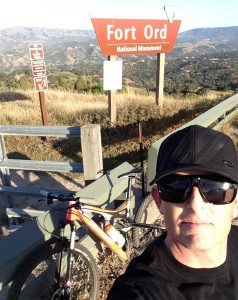 Dustin Hancock, DPT, PT
Rausch Physical Therapy & Sports Performance
dustin@rauschpt.net
Dustin is an adrenaline junkie with a passion for mountain biking and an outdoor-enthusiastic lifestyle. As a Doctor of Physical Therapy, his approach combines research-based knowledge and manual therapeutic treatment with Rausch PT's cutting-edge equipment. He has experience treating extreme sport athletes of all levels, from XTERRA World Champions to challenged athletes with amputations, neuromuscular disorders, and spinal cord injuries.